Get geared up for winter!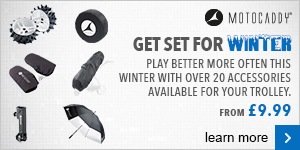 Motocaddy has all bases covered with an extensive choice of accessories which all serve a specific purpose and help you to enjoy your golf and perform even better. There are over 20 accessories in the Motocaddy range, some of which make superb Christmas gifts. They include:
S-Series Drink Holder
S-Series Height Extender
USB Cables
M1 PRO Drink Holder
Accessory Station
Deluxe Trolley Towel
M-Series Drink Holder
Wheel Covers (Pair)
Scorecard Holder
Deluxe Trolley Mittens (Pair)
Umbrella Holder
Device Cradle
S-Series Travel Cover
M-Series Travel Cover
M1 Lite Travel Cover
Rain Safe
S-Series Caddy Rack
Clearview Umbrella
S-Series Deluxe Seat
M-Series Deluxe Seat
Hedgehog Winter Wheels (Pair)
Watch our videos on Motocaddy's trolley range:
Exercise to Strike up on a Modern Driver
Click here to Read more.......
Swing Tips
Click here to Read more.......