Exercise to Strike up on a Modern Driver
Two common faults I often see with a driver set up when teaching are; weight too left sided , and open shoulder alignment. These are both caused by the alteration with the ball position for the driver. As it's moved left in the stance for a right handed player, the weight tends to go with it, and the shoulders open at the same time. Read more.......
Swing Tips
Lots of people have asked which swing model they are and how do they know which one will suit them. Here is a straight forward test to see which model will suit your overall flexibility, strength and physical condition. Read more.......
Under Armour ColdGear Reactor Hybrid ½ Zip

view other products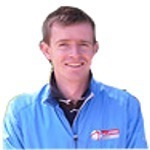 We think you'll love the styling of this lightweight quilted top that provides great warmth and comfort thanks to a range of impressive technologies.
This stylish Under Armour top features ColdGear Reactor material that delivers warmth, while Storm technology repels water without sacrificing breathability.
Key features include:

Storm technology repels water without sacrificing breathability
ColdGear Reactor provides insulation
Welded quilting delivers evenly distributed insulation
Stretchy side panels enhance your freedom of movement
Zip-neck for quick and easy access
Come into the shop to try this stylish, warm and comfortable option on for yourself. It delivers excellent insulation but is lightweight enough to not impact on your swing.