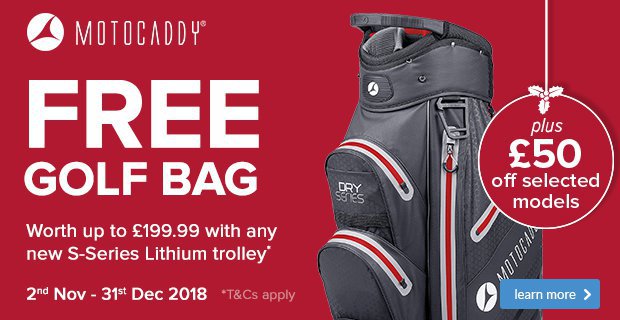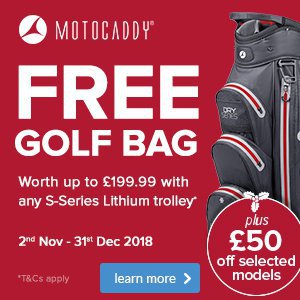 It really is as good as it sounds...
Right now, if you buy any Motocaddy S-Series Lithium trolley in the run-up to Christmas, you will be able to claim a FREE Motocaddy cart bag worth up to £199.99 on Motocaddy's website.
To entice you even further, we will give you an additional £50 OFF S3 PRO and S5 CONNECT trolleys purchased during the promotional period.
What to do next?

Have a browse through the Motocaddy range on our website - click here - choose your favourite S-Series Lithium trolley before popping into the shop to make your purchase.
We'll see you soon.
Terms and Conditions
For full terms and conditions, visit www.motocaddy.com/uk/freebag
Exercise to Strike up on a Modern Driver
Two common faults I often see with a driver set up when teaching are; weight too left sided , and open shoulder alignment. These are both caused by the alteration with the ball position for the driver. As it's moved left in the stance for a right handed player, the weight tends to go with it, and the shoulders open at the same time. Read more.......
Swing Tips
Lots of people have asked which swing model they are and how do they know which one will suit them. Here is a straight forward test to see which model will suit your overall flexibility, strength and physical condition. Read more.......