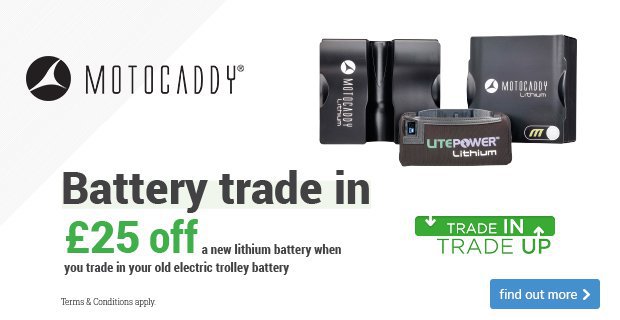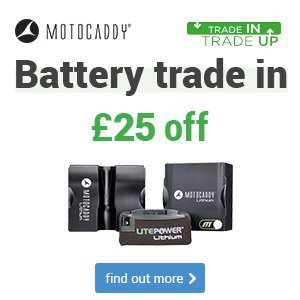 It's time to upgrade
Lithium batteries are quicker charging, last longer and work out cheaper in the long run than the standard Lead Acid alternatives, so it's time to say goodbye if you're still using one.
As such, we'll give you £25 when you trade-in your old battery against a new Lithium one. Motocaddy has now made Lithium even more affordable, so this really is a fantastic opportunity to save yourself some money.
Watch the video below to find out why so many people are upgrading from Lead Acid to Lithium.

Read on for full terms and conditions, but be sure to speak to us in-store if your battery needs replacing.
Terms and conditions
Available from Monday 2nd April 2018 until Sunday 13th May 2018.
Professional reserves the right to end the offer at any time without prior notice.
Cannot be used in conjunction with any other offer.
Cannot trade in multiple batteries against a single purchase (1 x £25 discount per transaction).
Only available on selected Motocaddy or Litepower lithium batteries.
Exercise to Strike up on a Modern Driver
Two common faults I often see with a driver set up when teaching are; weight too left sided , and open shoulder alignment. These are both caused by the alteration with the ball position for the driver. As it's moved left in the stance for a right handed player, the weight tends to go with it, and the shoulders open at the same time. Read more.......
Swing Tips
Lots of people have asked which swing model they are and how do they know which one will suit them. Here is a straight forward test to see which model will suit your overall flexibility, strength and physical condition. Read more.......