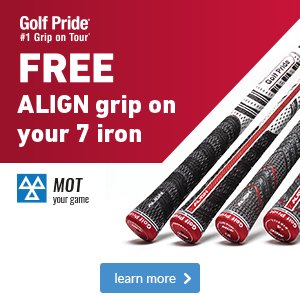 Your only point of contact with the club is via the grip, so it's vitally important that you pay attention to the condition of yours.
It's for this reason that we've brought back one of our most popular campaigns, offering you a FREE Golf Pride Align grip on your 7-iron. It's only through experiencing the benefits that a new grip offers that you'll realise the detrimental effects worn grips will have on your golf. But don't just take our word for it; watch our video below where Foremost TV caught up with David Leadbetter about the importance of re-gripping and the benefits of Golf Pride's Align grip.

Terms and conditions
Offer available while stocks last.
Professional reserves the right to end the offer at anytime without prior notice.
The free ALIGN grip must be fitted to the consumers 7 iron.
One free grip per customer.
Exercise to Strike up on a Modern Driver
Two common faults I often see with a driver set up when teaching are; weight too left sided , and open shoulder alignment. These are both caused by the alteration with the ball position for the driver. As it's moved left in the stance for a right handed player, the weight tends to go with it, and the shoulders open at the same time. Read more.......
Swing Tips
Lots of people have asked which swing model they are and how do they know which one will suit them. Here is a straight forward test to see which model will suit your overall flexibility, strength and physical condition. Read more.......