Exercise to Strike up on a Modern Driver
Two common faults I often see with a driver set up when teaching are; weight too left sided , and open shoulder alignment. These are both caused by the alteration with the ball position for the driver. As it's moved left in the stance for a right handed player, the weight tends to go with it, and the shoulders open at the same time. Read more.......
Swing Tips
Lots of people have asked which swing model they are and how do they know which one will suit them. Here is a straight forward test to see which model will suit your overall flexibility, strength and physical condition. Read more.......
PING Vault 2.0 Putters
view other products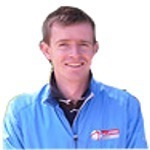 Have you always struggled to find a perfectly balanced putter? These new PING models come in three weight options each so we can match your feel preference.
The new custom-weighting system found in these putters provides sole weight options in three different weights so you can match a model you like to your personal preference. You can also make the most of PING's True Roll Face that helps any heel or toe strikes roll further for better distance consistency.
Key features include:

Soft and responsive feel from 100% milled heads
Custom-weighting system to personalise your swingweight and feel
Weights include steel (standard), tungsten (+15g) and aluminium (-15g)
Variable depth faces ensure putts roll at consistent speeds
Six heads include three blades, two mid-mallets and a mallet
Three premium finish options - Stealth, Platinum or Copper
With six heads, four grips, three weight options and three finishes all available, this new range can be tricky to narrow down, so contact us for some advice or to come and try a few putters for yourself.